The Wacom Support team is a global team that can be reached by chat, phone, and by creating a support ticket. Below is a guide on how to contact the Wacom support team. If you are looking to contact a different Wacom department, visit our contact us page here.
Before contacting us
Did you already search the knowledgebase for the issue that you are having?
The search on https://support.wacom.com works best when entering the issue that you are seeing.
Or you directly go to the Drivers & Downloads section, to the Getting Started pages, review our Compatibility list or Register your product.

Collect all details for your question - like Tablet Model, Serial Number, Operating System, Wacom Driver and your eStore Order number.
Chat
The Wacom support team can be reached by our online Chat widget. Chat hours are dependent on the business hours of the region you are located in. See Phone for the business hours.
To reach our chat team, simply click on the "Support" button at the lower right of the Wacom Website.

Next in the search window, enter your question or issue you are seeing and hit enter.You will be shown a list of Knowledge articles that are related to your question.
If none of them solve your issue, click the "Live Chat" button.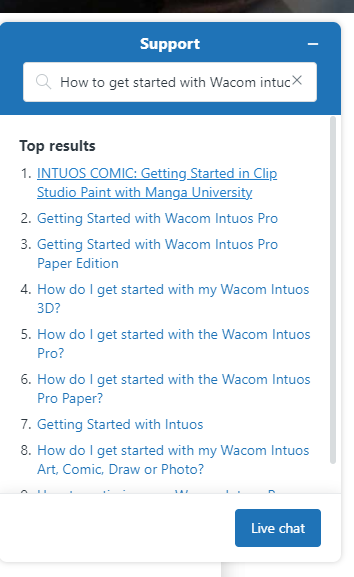 Enter in the required information in the pre-Chat form, and then select "Start Chat" button to connect with a support agent. If the button reads "Submit" this means our chat team is offline, and your request will be captured and responded to via email within 2 business days. Please ensure that you can receive mails from the @wacom.com domain.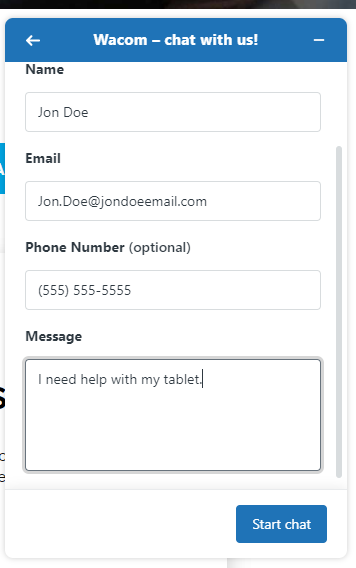 Create a Ticket
To create a Wacom Support ticket, simply select the "Create a ticket" link located at the bottom of every page on the Wacom Support website.

Next, fill out the required information, and attach an photos or documents as needed.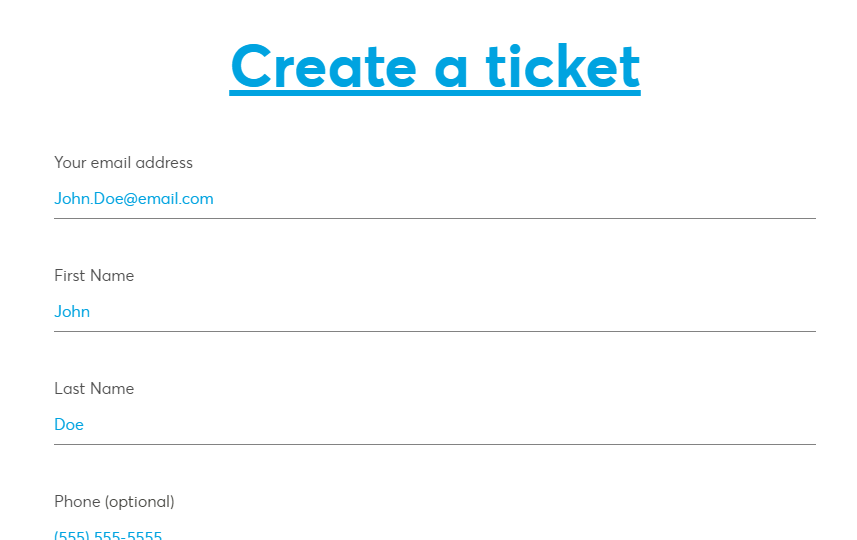 Please add as many details as possible to your question. Especially the Wacom Product with its serial number, the Wacom Driver version and your Operating System with exact version.
Once all information is entered, make sure to check the agree boxes for the Wacom Privacy Policy and Terms of Use. Then select submit to create a support ticket. A confirmation email will be sent to you with your support ticket number. Please ensure that you can receive mails from the @wacom.com domain.
We will answer your request within 2 Business days.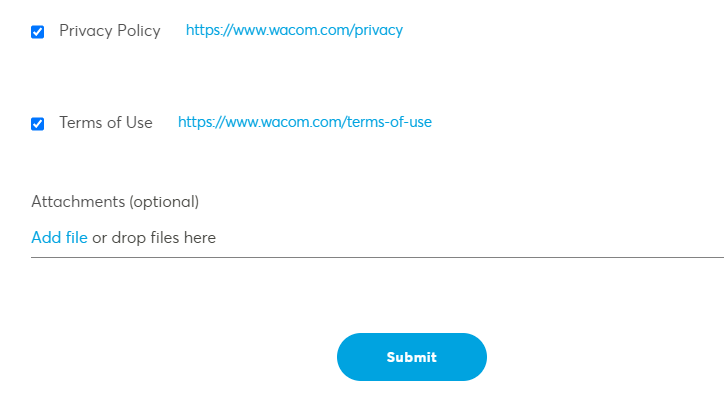 Phone
Wacom Support can be reached by phone during the regional business hours.
Below is the list of the regional Wacom Phone numbers and open hours for support.

Region
Country
Phone Number
Open Hours
Americas
Argentina
0800-333-0108
Monday to Friday, 6 am to 6 pm PST
APAC
Australia
1300 2 WACOM
(1300 292 266)
Monday to Friday, 5 am to 7 pm JST
EMEA
Austria
+43 1 790 825 550
Monday to Friday, 10 am to 5 pm CET
EMEA
Belgium
+32 2 275 06 91
Monday to Friday, 10 am to 5 pm CET
Americas
Brazil
0-800-591-7022
Monday to Friday, 2 am to 3 pm PST
Americas
Canada
1-855-699-2266
Monday to Friday, 6 am to 6 pm PST
Americas
Chile
800-914-118
Monday to Friday, 6 am to 6 pm PST
APAC
China
+86 400 810 5460
Monday to Sunday, 9 am to 6 pm CST
Americas
Colombia
01-800-913-1505
Monday to Friday, 6 am to 6 pm PST
Americas
Ecuador
1-800-000-230
Monday to Friday, 6 am to 6 pm PST
EMEA
Europe other
+44 207 949 0392
Monday to Friday, 10 am to 5 pm CET /

9 am to 4pm GMT/BST

EMEA
Europe other
+49 6966404393
Monday to Friday, 10 am to 5 pm CET /

9 am to 4pm GMT/BST

EMEA
France
+33 1 7020 0070
Monday to Friday, 10 am to 5 pm CET
EMEA
Germany
+49 69 66 30 82 00
Monday to Friday, 10 am to 5 pm CET
Americas
Guatemala
502-227-86366
Monday to Friday, 6 am to 6 pm PST
APAC
Hong Kong & Macao
+85 2 2573 1988
Monday to Friday, 9 am to 6 pm CST
APAC
India
1800 103 7412
Monday to Friday, 10 am to 5 pm IST
APAC
Indonesia
007 803 321 8419
Monday to Friday, 5 am to 7 pm JST
EMEA
Italy
+39 02 4528 7050
Monday to Friday, 10 am to 5 pm CET
APAC
Japan
+81 3 5337 6701
Monday to Friday, 9 am to 8 pm JST
APAC
Korea
080 800 1231
Monday to Friday, 10 am to 5 pm KST
APAC
Malaysia
1800 812 545
Monday to Friday, 5 am to 7 pm JST
Americas
Mexico
1-800-681-1831
Monday to Friday, 6 am to 6 pm PST
EMEA
Netherlands
+31 20 517 4705
Monday to Friday, 10 am to 5 pm CET
APAC
New Zealand
0800 4 WACOM
(0800 492 266
Monday to Friday, 5 am to 7 pm JST
Americas
Panama
800-0155
Monday to Friday, 6 am to 6 pm PST
Americas
Paraguay
009-800-542-0150
Monday to Friday, 6 am to 6 pm PST
Americas
Peru
0800-55594
Monday to Friday, 6 am to 6 pm PST
APAC
Philippines
1800 1322 0219
Monday to Friday, 5 am to 7 pm JST
EMEA
Russia
+7 4992722061
Monday to Friday, 10 am to 5 pm CET
APAC
Singapore
800 852 6114
Monday to Friday, 5 am to 7 pm JST
EMEA
Spain
+34 91 787 0346
Monday to Friday, 10 am to 5 pm CET
EMEA
Switzerland
+41 44 212 2818
Monday to Friday, 10 am to 5 pm CET
APAC
Taiwan
0800 500 128
Monday to Friday, 9 am to 6 pm CST
APAC
Thailand
1800 012 656
Monday to Friday, 5 am to 7 pm JST
EMEA
UK
+44 207 744 08 31
Monday to Friday,

9 am to 4pm GMT/BST

Americas
United States
1-855-699-2266
Monday to Friday, 6 am to 6 pm PST
Americas
Uruguay
000-416-203-9712
Monday to Friday, 6 am to 6 pm PST
APAC
Vietnam
121 020 150
Monday to Friday, 5 am to 7 pm JST
APAC
Ho Chi Minh, Vietnam
+84 28 4458 1335
Monday to Friday, 5 am to 7 pm JST