Installation Guides
Installation Guides
If you have downloaded sign pro PDF you can use the following guides to install the application:
Depending on the signature device you want to use with sign pro PDF, you must also install the required driver.
If using an STU device then make sure that the STU driver is installed.

During the installation process you will be asked if you want to install the STU Driver along with sign pro PDF. If you forgot to tick this check box, use the link above to download and install the driver.

If using a DTU or similar Wacom pen display tablet the Wacom tablet driver must be installed.
If using a Wacom-supported touch-screen device the Wacom Feel Driver must be installed.
If using a device which is not operated using Wacom hardware such as a touch-screen digitizer or pen, then a special RTS license for sign pro PDF must be obtained from Wacom Sales.
Note:
If sign pro PDF is being used in a remote desktop environment (RDP) then third-party USB forwarding software must be used to forward the pen data over the network.
The only way round this is to use a signature pad which operates serially such as:
STU-430V
STU-540 (which can be switched into serial mode)
Receiving and activating your License Key (Premium license only)

If you purchased a Premium license you should have received your license key by email. The license key and download link will be sent to you in 2-4 business days once your order finishes processing.
The software and license key can also both be downloaded from your account on the eStore under "My Software Licenses"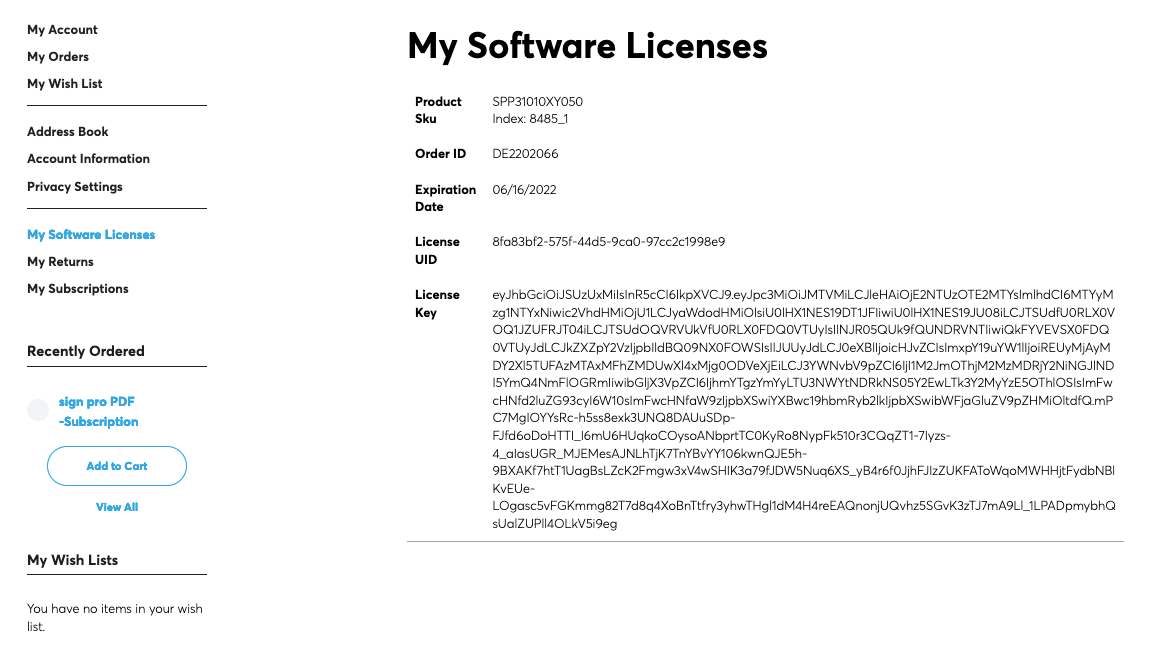 Once you have your license key ready and sign pro PDF is installed, go to Settings > About > Manage License to enter the license key.
There you have two options before clicking Save:
Copy and paste the key into the "Full Mode" section
Click "Add license key from PC" and select the file you have downloaded from your account.

Note

:

You must have an internet connection to activate your license key and ensure you have HTTPS port 443 open.

Sometimes an error has been encountered when running Antivirus software. If so, disable before re-testing.
Moving a Premium license from one computer to another
To move a license to a new computer ...
Deactivate the license key by reverting sign pro PDF to "Standard" or "Trial" mode before uninstalling.
Once this is completed, install sign pro PDF on the new computer.
Copy & Paste or upload the license key into the "Premium" section and click "Save"
When the license key is properly activated on the new computer you can uninstall sign pro PDF from the old one.
Known issues & troubleshooting during installation
If the installation failed, first check whether the problem can be solved by the following FAQ's:
Get Developer Support
If these FAQ's don't help, or your issue is not described, you need assistance from Wacom Developer Support. To get Developer Support you must open a Support Ticket on the Developer Relations website.
If you already have an account on the Developer Relations website, just go to the Developer Support Portal and open a Ticket.
If you don't have an account yet, please consider the following topics and prepare yourself before you open a Developer Support ticket:
Check the troubleshooting steps above if you have not been through them already.
To open a Developer Support Ticket, a Wacom ID is required. You can see how to do this in the article below.
Collect information about the system environment and issue. The more detailed information you provide, the easier our support team can identify the root cause of the incident.



Which Windows version is in used (version & build numbers)?
Which Wacom device is being used?
Which version number of sign pro PDF is being used?
Is sign pro PDF a licensed version or not?
Which driver is installed? Please provide a screenshot from Wacom related entries in "Apps and Features > Programs and Features"
Is it a clean install or an upgrade from an older version?
A screenshot or exact text of the error message if there is one.
Detailed steps taken to reproduce the issue.
For installation problems, the installer should generate a set of log files in %TEMP% and should have "sign_pro_PDF" in their name. Please send those log files if they exist.
Is it used in a Remote Desktop environment such as Citrix?
Does the computer in use have any other digitizer? Such as a laptop with touchscreen/stylus support.
If you are ready, please follow this guide How to get Developer Support for sign pro PDF or Ink SDK's