The Wacom Intuos Pro (PTH-460, PTH-660x, PTH860x) and Wacom Intuos (CTL-4100x, CTL-6100x) use a Bluetooth connection to pair with a computer. Bluetooth is a wireless technology standard for exchanging data over short distances. Bluetooth and USB connections each have individual pros, cons and the best choice depends on your individual needs. Bluetooth by nature is slower than a USB connection and a user may see lag and/or connections issues depending on interference, connection type and environmental factors.
Wacom offers the following suggestions to help optimize the tablet's performance when using a Bluetooth connection.
Check to see if your computer has a built-in Bluetooth antenna. If not, purchase and install a Bluetooth adapter.
Move your tablet closer to your computer, and make sure that the space between the computer and the tablet is clear without obstacle and interference.
Ensure you are using a compatible Bluetooth version.

Version 4.0 or higher is recommended.
A minimum of Version 2.1 is required.

Check what version of Bluetooth your computer or adapter is using. If you are not using a compatible version, install a compatible Bluetooth adapter.
Check Updates in the Wacom Desktop Center to make sure that you are using the latest driver and firmware.
Update your current operating system (Windows and macOS) to the latest version.
Unpair other Bluetooth devices, especially any that transfer a large amount of data, such as headphones, speakers, or storage devices.
Watch out for potential sources of interference
Mac - Check the Bluetooth RSSI Strength

With Mac OS, you can check your Bluetooth signal Strength in the computer.
How to check Bluetooth RSSI strength on Mac on macOS 12.4 and newer
Pair the Wacom Intuos Pro tablet to the computer.
Press and hold the Option key and choose Apple menu > System Information.
Select Bluetooth from the dropdown list and locate RSSI under the connected Wacom Device.
How to check Bluetooth RSSI strength on Mac prior to macOS 12.4
Pair the Wacom Intuos Pro tablet to the computer.
Hold the Option key while clicking the Bluetooth menu to get additional information and settings for Bluetooth devices.
With the optional Bluetooth menu activated, select your listed Bluetooth device and the submenu for it should show the detected RSSI value for it.

RSSI = Resource Strength Signal Indicator
RSSI should be between 0 and -50. The higher the value the better performance.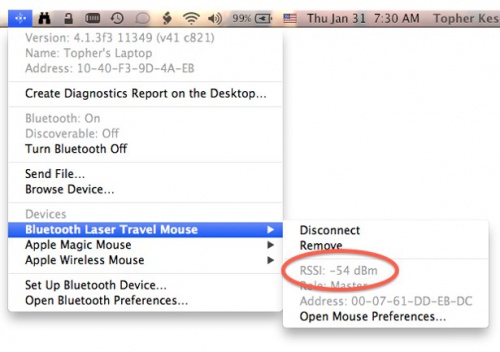 Move your tablet closer to the computer to get a higher value of RSSI.
Minimize sources of interference. A good article explaining different types of interference and how to minimize them can be found

here.